Articles
Follow the links below to jump down the page to the articles
Dog Photography
Branch Notes Summer 2011
Branch Notes Spring 2011
Branch Notes Winter 2010
Branch Notes Summer 2010
Bentley's Story
Dog Photography
I've never pretended to be a portrait photographer and don't claim to know a great deal about the subject but how hard can it be? It's actually pretty easy to get great shots. To take a good photo you need to know a few basic rules, to take a great photo you should try breaking a few. Here are some general pointers that may help.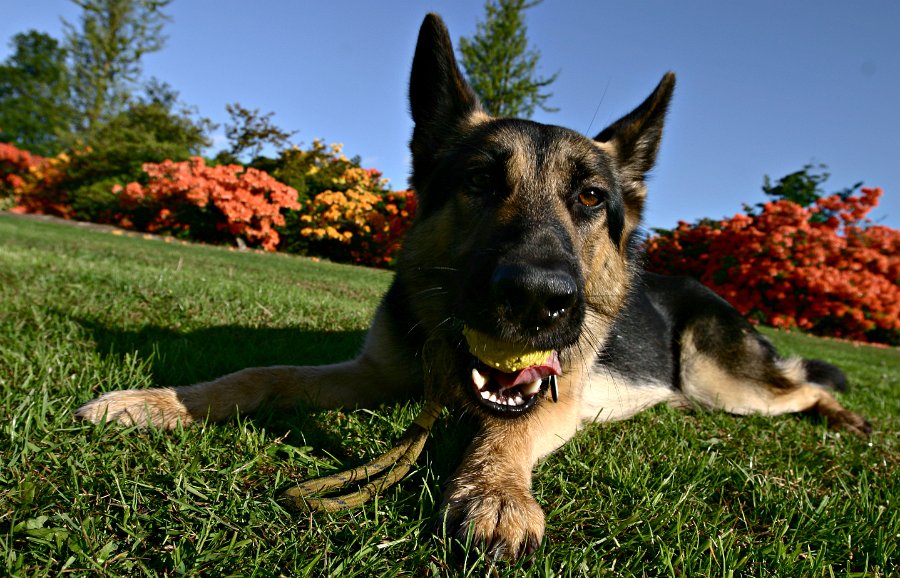 First and foremost, photography is fun! Enjoy it and make sure your dog enjoys it too. Make it a game, have a few toys and play together. Break off, take a few photos then get back to playing. There's nothing worse than trying to snap a bored dog, they tend not to do what you want and their attention wanders making it hard to get the shot you're looking for.
Find a safe place. If you're taking photos your attention may not be completely on your dog all the time. Stay aware.
You can keep your dog's attention by having their favourite toy in your hand, move it where you want your dog to be looking. Use the toy and your voice to achieve that ears up, alert look.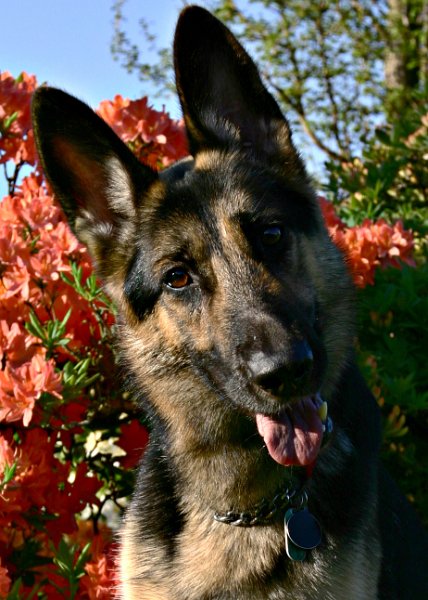 Get down to your dog's level or even lower if possible. Be prepared to look a complete berk in the park as you lay on your gut with a camera pointing up your dog's nose.
The best times of day for outdoor photography are an hour after sunrise and an hour before sunset. At these times the light is not too bright and the colours have a depth and richness not possible in the middle of the day. The photos in this article were taken at 6am. By 8am the colours were nowhere near as intense.
Mad dogs and Englishmen go out in the midday sun but photographers shouldn't. Bright midday sunshine gives colours a flat washed out look and the sun may be uncomfortable for your dog
Shoot with the sun behind you or to the side of the subject. Shooting with the sun behind your subject will silhouette the subject and you will loose detail. Watch out for dark shadows.
Avoid using a flash, not only can bright flashes be uncomfortable and off putting for your dog, flashes lead to red eye in humans and green eye in dogs.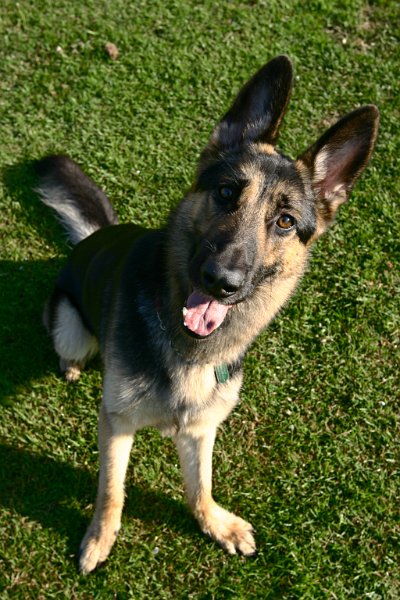 Try taking photos from odd angles. (Above) You may be surprised by the results and this technique can give a relatively uninteresting subject a completely different look and feel.
An observer's eye is always drawn to the subject's eyes. Always focus your camera/lens on the eyes of your subject.
Often overlooked the background plays an extremely important part. A well chosen background can enhance a photo. Watch out for distractions in the background (such as the tree growing out of the top of Bentley's head in the first photo!)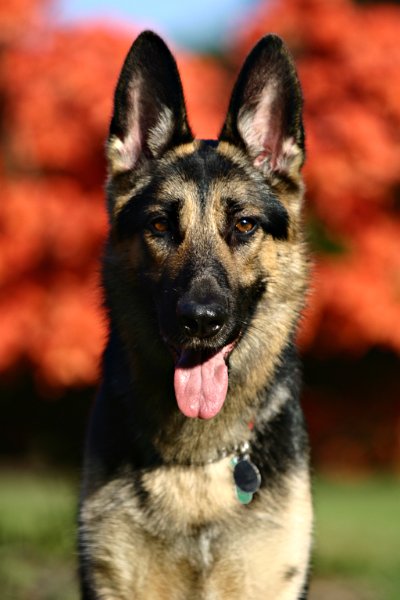 Combining a telephoto setting/lens and a narrow depth of field will blur a background so it is less distracting to an observer and focuses attention on the subject (above). If your camera does not allow you to control depth of field choose telephoto and the settings for action photography. Ensure a good distance between the background and the subject.
Action shots. There are 2 main ways to achieve a feeling of action. The first is to choose a really fast shutter speed that will freeze action with everything in the photo appearing as though it's frozen in time. Fast shutter speeds are anything from 1/500 of a second upwards with really fast being 1/2000 of a second or even faster. If you have an automatic type camera choose the action setting. You'll need bright conditions to achieve faster shutter speeds. This method works really well when there is a lot of movement especially where water is involved or in the example below, snow.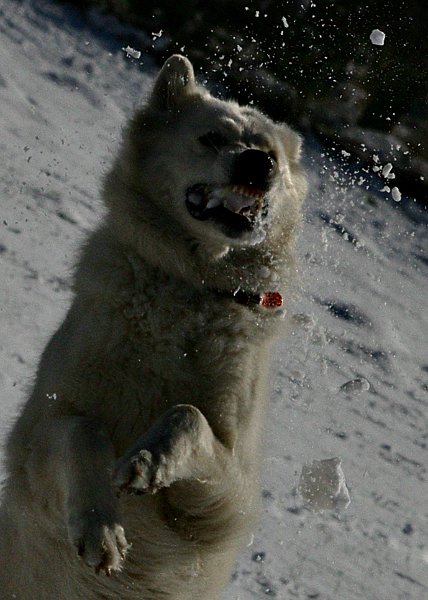 Freezing action does not work too well when shooting cars (see below). If a fast shutter speed had been used the car would appear to be "parked" and therefore the feeling would be lost from the photo. Sorry to bring cars into the article but they best illustrate what I'm trying to say.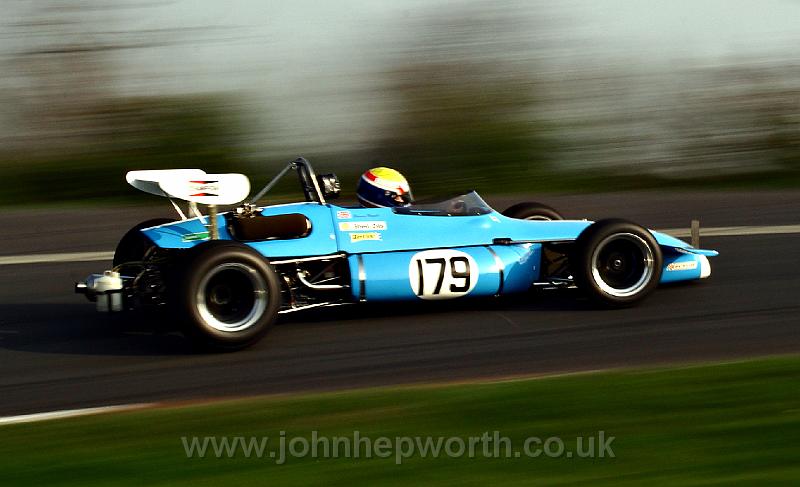 Another method to give a feeling of speed to a photo is to have the background and maybe even the subject blurred by motion. This is harder to achieve and takes practice. The idea is to combine a slower shutter speed with a technique called panning. When panning you point your camera at the subject tracking it as it passes. When it passes you by you take the photo whilst moving the camera to ensure it remains pointing at the subject and for a short while after you've taken the shot. The result is a blurred background and a hopefully sharp subject. The slower the shutter speed the more blurred the background. Be careful because your subject may become blurred too. Expect to waste a lot of shots when practising this method. You can really slow the speed down for some spectacular results. There is one simple rule here, the slower the shutter speed the more wasted photos you'll have but when you get that one shot, it's magic!
Below is an example where panning used with a much slower shutter speed blurs not just the background but also the subject.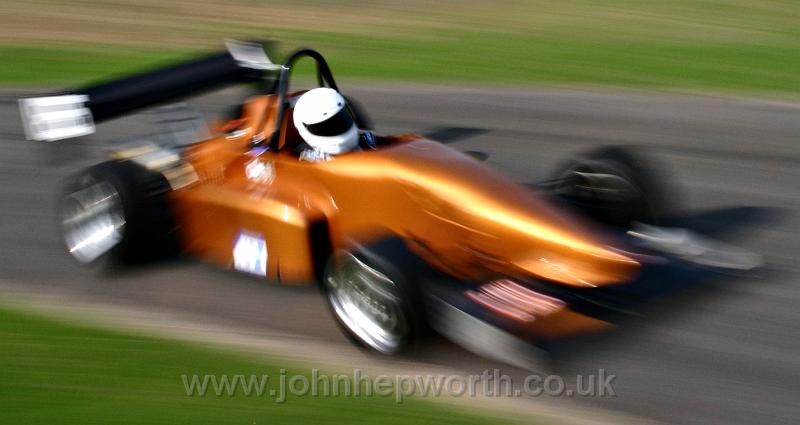 When taking any pictures be prepared to take lots and lots and lots. The more you take the greater the chances you'll have that perfect shot. The advent of digital has meant that this is no longer a costly and time consuming exercise. The delete button is wonderful!
I have tried to keep this article interesting and brief without using too much jargon. We've only really scratched the surface. There are a vast number of books and websites that talk about all aspects of photography, I learn something new every time I get my camera out.
By applying a few techniques you should be able to take great photos that will remain with you for many years to come. If I've bored you, sorry but if you've learned just one thing, great!
Don't forget to involve your dog, make it fun and you'll get better results.
Branch Notes - Summer 2011
Congratulations to Wendy Ridsdale who has successfully completed part one of the instructors course. By the time these notes are published Wendy will be well into part 2. We would like to wish her the best of luck in her continuing training to become a fully qualified BAGSD instructor.

Our new look website has just launched. Visit it at: www.leedsbagsd.com It is your site and we ask that all our members that want to contribute should send or give material to John Hepworth. Any photos and/or articles will be very gratefully received.

The annual branch calendar is being put together once again. We ask that you send or give photos to John Hepworth. We aim to have this ready in plenty of time for Christmas. The calendar helps raise funds for the club and for our chosen charities.

Tom Walton was given a special award for many years of sterling and unbroken service. Tom was given an engraved crystal rose bowl with the inscription "Presented to Tom Walton from his friends at BAGSD Leeds." Tom asked that I pass his thanks on to everyone at the branch for the kind gesture. We can't imagine how many people and dogs have passed through Tom's capable hands in the 24 years that he has been at the club. It is difficult to imagine what a difference Tom has made to these people and dogs. We hope he continues to be our Guru for many more years to come.

Yet again we have been very fortunate in that we have attracted lots of new members. Some weeks we are left wondering where all these puppies keep coming from! It is particularly to gratifying to learn from many of you that we have been recommended by word of mouth. We must be doing something right! To all our new members, welcome aboard and we really hope you enjoy your time with us.

During May Wendy Ridsdale took Sasha and Otto to a TV shoot in Manchester. Sasha and Otto were to play the part of police dogs in a drama documentary about the investigation and subsequent arrest of Fred West. By all accounts the pair really rose to the occasion. Wendy has promised not to let the fame go to Sasha or Otto's heads. If you see a large motor home parked outside the branch you'll know Wendy allowed the fame to go to her head!!! The programme is called The Appropriate Adult and is due to be broadcast in November.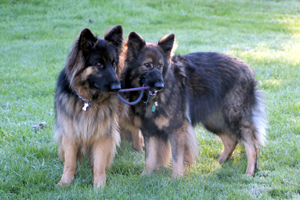 Otto (Left), Sasha (Right)

The committee would like to welcome 2 new volunteers. Joan Smith and Sue Ellis have decided to join the committee. Both are keen and active members of the branch, we are sure that both Joan and Sue will make a great contribution. Leaving the committee is Phil Atkinson. We would like to thank Phil for his contribution to the branch and the committee.

I know it is only summer but the Christmas party is booked. It will be on Saturday 3rd December at Farsley WMC. We have used this venue for the previous two parties and it always turns out to be a good night. It won't be long before Wendy is busy selling tickets!


Branch Notes - Spring 2011
The Christmas party was held on 4th December. Despite the weatherman's best efforts to put everyone off leaving the comfort of their homes we had a good turnout. The raffle was a great success mainly due to Wendy, Laura and Katy's hard work in brow beating local companies into donating prizes. We managed to raise an impressive £428 that was shared between our nominated charities. These were German Shepherd Rescue and the PDSA. I'm not sure the DJs were happy with the number of prizes for the raffle as it meant they had to spend half the night being quiet whilst the draw took place.

Many thanks also to Andrea Arkle who helped with putting on an impressive feast. We are lucky to have such an active committee and no shortage of volunteers to ensure these events are a success.

The committee and members would like to say thank you to Jason Arundale for his work as Club Secretary and would also like to congratulate both Jason and Lesley on the birth of their daughter Isabella. Katy Basson resigned as Treasurer, Steve Bailey and Mark Basson resigned from the committee. We would like to thank you all for your hard work over the last couple of years or so. It is very much appreciated. We welcome two new committee members. We are sure that Sue Ellis and Kirstie Godson will make good additions to the committee.

John Hepworth has taken over the role of Secretary with Wendy Ridsdale and Judith White sharing the role of Treasurer.

German Shepherd Rescue and the PDSA are once again our nominated charities for the year. UK German Shepherd rescue just missed out on being voted in as one of our charities. Harry Landa made a very generous donation of £50 to UK German Shepherd Rescue, thanks again Harry.

This year's awards were: Club Person Of The Year was awarded to our youngest member, Laura Ridsdale. Laura was nominated and voted for by the club members. Usually the first person members see (and hear!) when arriving at the club Laura helps with tea making, taking subs plus the multitude of often overlooked jobs that help in the smooth running of the club. This is the second consecutive year Laura has won this award. This demonstrates just how highly thought of Laura is at the branch. Other nominees for the award were Wendy Ridsdale our Chairperson and yours truly (oh well, there's always next year!).

The Instructors' Award
The instructors' award for Most Improved Handler was given to Roger Stanley with Harley. Roger's business commitments mean that he is not able to attend as often as Harley would like but lost time is made up with extra training on weekday evenings. Harley has worked very hard to ensure that his handler has learned a great deal during the past 12 months. His persistence has meant Roger is turning into a half decent handler (even though he can't tell his left from his right!). In all seriousness, keen to learn Roger has listened to all the advice given to him and put it into good practice. Always willing to put in the time when they can, Roger and Harley have built a solid foundation on which to build a great partnership. This has not gone unnoticed by the instructors and they felt this particular double act was most deserving of the award.

Endeavour Trophy
This year's Endeavour Trophy was awarded to Sarah Stott. The committee and instructors felt that despite personal circumstances that would have kept many away from training, Sarah had continued to attend regularly. Although Sarah never set out to be the one on the training field she took on the training of Bruce. We suspect that at times Sarah did not find it easy but through continued perseverance, patience and sheer hard work Bruce is turning into a cracking dog. Sarah can be justifiably proud of her award.

Calendar
This year's branch calendar has been a big success. Thanks to all those members for providing photos. The committee would like to say a very special thank you to one of our members, Michael Ridgeon and his team at Alpha Media Solutions (shameless plug!) for preparation and printing. This was done at no cost to BAGSD Leeds. There are still some left if you would like one. We will be doing this again so get snapping we will be asking for photos towards the end of the year.

Return to top of page


Branch Notes - Winter 2010
Leeds has two people due to attend the next instructor's course to be held at Huddersfield. The committee and members would like to wish Phil Atkinson and Wendy Ridsdale the very best of luck. If the branch continues to welcome so many handlers and dogs each Sunday we're going to need Phil and Wendy. We're sure Judith's voice will also appreciate their help.

The branch AGM has been scheduled for Sunday 9th January. All the four legged members are given a day off training so please don't bring them on the day. All two legged members are encouraged to attend. It's your club and your views and opinions are important to us so please come along and have a say. This will be the only day of the year that you'll be allowed to stay inside in the warmth so make the most of it! The awards for Club Person Of The Year, Most Improved Handler and the Endeavour Trophy will also be made. Club Person of the Year is awarded to the person who the members believe has worked hard and has made a significant contribution to the club. On the day of the AGM anyone can nominate any club member for the award. All attendees then take part in a secret ballot to decide on the recipient. The Most Improved Handler trophy is awarded by the instructors to the person that they believe has worked the hardest and has achieved the greatest improvement. The Endeavour Trophy is awarded to any club member who the committee feels has made an exceptional effort over the course of the year.

Our two champion scroungers have been working very hard to persuade various companies to part with goods/products/services for our Christmas raffle. They have achieved some fantastic results, especially when you consider how hard up many organisations are at the moment. Wendy and Katy must have contacted every organisation in West Yorkshire looking for raffle prizes. The list of prizes is very impressive and range from vouchers from the local butcher to Leeds Rhinos tickets (apologies to David Porter, we just could not bring ourselves to approach Bradford Bulls!!!) We're not sure what their secret is, on reflection we're not sure we want to know. Wendy and Katy have made a tremendous effort (once again) and our heartfelt thanks must go to them for all they have done. The PDSA and German Shepherd Rescue will benefit greatly from what should turn out to be an exciting raffle.

Welcome to all our new members over the last 3 months or so. You all continue to work hard each week and we hope you're happy with what you've achieved so far. It's fantastic to see the progress you all make. Keep it up and don't forget to continue to train at home during the week. We can tell which of you have been practicing and which of you haven't!!! Remember too, all new members will be extremely welcome at the AGM.

Return to top of page


Branch Notes - Summer 2010
Leeds has three new fully qualified instructors. Tom Walton, Suzanne Lyles and John Hepworth all passed Part 2 of the instructor's exam. Well done to them and well done to everyone on the course as they all passed! This can only reflect well on the training given by Mick Hodgetts. Thank you Mick and thank you all those who willingly gave up their time to be stooges, we really appreciated your help. It was great to meet and work alongside everyone from the different branches. Travelling to Birmingham from Leeds was not the chore that you might think it would be. That is apart from the road works on the M1 at Nottingham. After 18 months of navigating said road works it was particularly pleasing to see them being lifted, the week after we had finished the course!!! The branch will make sure to work the three latest instructors very hard indeed!

Our new treasurer Katy Scott has got off to a flying start. Each year we have a couple of nominated charities that we raise funds for. This year the PDSA and German Shepherd Rescue will benefit from what we raise. So far we've donated £150 and both Katy and Wendy are working hard to squeeze as much as possible from us all! Tom Walton went along to the PDSA to deliver the latest donation in person.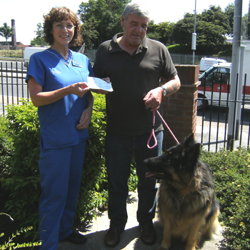 Tom handed the cheque over to Leeds PDSA Vet Carolyn Oldridge. He told us it was good PR but we know he really went to get himself checked out. Also donated was a large quantity of towels donated by Christine. The nursing staff were very grateful as they are always short of towels, flannels, bedding (not blankets), and cat litter.

The summer night out was put on hold. The committee noted that the date clashed with a small football tournament of some sort being held in South Africa. It was felt that should a particular team do well at the aforementioned then we might not get a good attendance. Having just seen the first 2 matches prior to writing the branch notes I'd begun to think the original date was fine! [Further note added later: I was right!]

On Sunday 13th June the branch was pleased to welcome John Neale, from Birmingham. The Yorkshire/Birmingham language barrier was easily overcome and John phoned later to say how impressed he had been with the branch, it's members and their warm welcome.

Early planning for the eagerly anticipated Leeds Christmas bash is well in hand. Previous Christmas Bun Fights have seen appearances from various special guests including non other than Mr Elvis Presley or, to be a little more accurate, Tom's mate, who is actually an excellent Elvis impersonator! The venue is booked and Tom is once again looking forward to serenading El Presidente (Judith) with yet another dazzling performance of The Lady Is A Tramp. With bright eyes and bushy tails, attendance at training the morning after is mandatory for all partygoers!

We will be producing another Leeds Branch calendar towards the end of the year. Last year's was a great success. It sold out and raised over £100 in the process. We will be asking for photos of Leeds branch's four legged members for possible inclusion in the new calendar.

The committee would like to say a massive thank you to David Porter for the extremely generous offer to donate a sit on mower. Quite often over the summer months retrieves turn into search and rescue operations. The days of losing balls, dumbbells, puppies and the odd instructor in the long grass shall be forever consigned to club folklore. Even the mole has given up and packed his bags!

Once again we've been lucky to receive a good number of new members. Welcome aboard to all, we hope you have a great time on your Sunday mornings with us.

Return to top of page
Bentley's Story
March 1st 2007 was an awful day. After a short illness we lost Polo our 9-year-old German Shepherd Dog. He was in Fiona's arms in his favourite spot on his mat looking through the patio doors and out into the garden. If we'd had to choose a way for him to go this would have been it. A fitting end for a truly wonderful companion, we were devastated.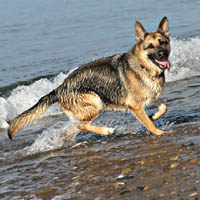 Polo


Six hours later Bentley bounced into our lives. We'd been sat in our seemingly very empty house, each of us pondering life without the great big lump of a GSD. I had been wondering if it was too soon to find another and was worried Fiona would think that I was being callous even suggesting another dog so soon after Polo. After a few moments I remember saying "This is stupid, there's a German Shepherd out there somewhere that needs rescuing." It turns out that Fiona had been thinking the same thing. So that was it, decision made!
We contacted a few rescue centres asking if they had any German Shepherds staying with them. It was Springfield Kennels and rescue centre near Pontefract that we settled on. On arrival we had a chat and were eventually shown to the kennel. Whereas all the other kennels each had a dog either quietly standing by the gate or stood up barking at us this particular kennel appeared empty. The kennel maid started calling and a very timid little face appeared out of the darkness of the compartment at the back. He then let rip with a single bark that seemed far too big for the little body that finally emerged. "He's a bit gobby!" We were affectionately told.
With some coaxing we managed to get him to come to us. We put him on a lead and took him outside and away from the other dogs. Before us stood a skeleton and a smelly one at that! He even came with his own Flea Circus! After spending some time outside with him we realised that he was a very friendly little chap but was quite nervous of men. There was no aggression in him, he just wanted to run away or hide when faced with apparent danger. Plus he was hungry, very very hungry.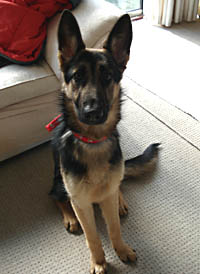 Skinny Bentley on the first day
of his new life


Not much was known about his history only that he been arrested for vagrancy in the Pontefract area and had been taken to Springfield by the Dog Warden. He'd been there about 3 weeks and was due to be moved to the PDSA kennels. He was malnourished which was not helped by a stomach upset probably brought on by stress. One of the kennel maids had fallen for him and had taken him home but there was trouble from her own German Shepherd and he had to go back to Springfield.
We had made up our minds by then, the kennel staff were happy with us and we only needed to seek the approval of one other, Rusty. Rusty is our friend's German Shepherd, when our friends go away we look after their dogs and when we go away they look after ours. It was therefore essential that the two dogs could be friends. A quick telephone call and Rusty duly arrived to give her seal of approval.
We were worried that people would think we'd got another dog too soon after losing Polo and some people did question whether it was the right thing to do and quite rightly the staff at Springfield needed to know we were sure. You can never be one hundred percent certain but it felt right.
Only 6 hours after taking Polo to the Vets for the last time we were back there. They were a little surprised to see us but were delighted to check out the new addition. Apart from the fleas and the malnourishment Bentley was in okay shape. He weighed only 17kg when he should have been around 25kg. As we had no history to speak of the Vet gave him his inoculations and we made appointments to revisit over the next 3 weeks to check on progress.
Then began the slow process of getting him fully fit and healthy. A feeding regime of little and often and short gentle walks started. The poor fella attacked every meal as though it was his last and we were quite worried that he was going to choke himself. After a few weeks the vet was happy and Bentley weighed in at 26kg.
The physical fitness was easy, it was his fear and nervousness that was to take time and effort. Whenever I was around, Bentley spent most of his time avoiding me by running off and hiding under the table. He loved Fiona, almost too much. He followed her everywhere fearful to let her out of his sight. Any opportunity there was for Fiona to go out, she would, leaving Bentley and I together. A few minutes at a time to begin with and then longer. Very slowly and over a period of a few weeks Bentley came out from under the table but always stayed an arms length away from me. This was difficult for me as he always threw himself at Fiona and was always really happy to see her but he ran away when I came home. There were occasional glimmers of hope as he forgot he was scared of me from time to time and treated me to the odd bit of affection. Slowly these periods became more frequent and began to last longer. He still has his frightened moments and heads for the table but now he stops himself short of going under it.
We thought a bit of male bonding was required and started looking into the various dog classes that were available. This would not only be good for our relationship but we both might actually learn something too. Fiona found BAGSD Leeds on the Internet so she phoned the number and spoke to a nice chap that called himself Richard (don't tell him I said that!). The 3 of us went along on the first couple of occasions then Fiona stayed away. Bentley has made fantastic progress since we started going. Choosing to attend BAGSD Leeds was probably the best single decision we've made so far. I'm sure there is still much more for us to learn but we're off to great start. This was brought home to me whilst on a day trip to the coast. We were playing on the beach at Scarborough with Bentley's ball, he was sitting, waiting and retrieving on command and each and every time he returned to bring the ball back. He was having a great time. Some friends that were with us pointed out that people on the beach had stopped to watch us play. This was hugely rewarding and I felt very proud of the fact that people had stopped to appreciate our game.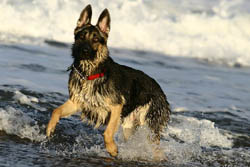 A day at the beach


During his time with us we've introduced him to as many people as possible, he has met the neighbours and the staff in the pet shop and is quite happy doing so. He has a fantastic temperament and the Bentley fan club continues to grow. When we are out walking, kids I've never seen before say "Hello Bentley!" When we go to the pub people greet him by name when they don't even know mine!
Gaining Bentley's trust and respect has been extremely rewarding and every day it becomes even more so. It's been difficult and frustrating at times, especially when he showed so much affection towards Fiona but ran from me. With perseverance, patience and lots of sound advice we have built a solid foundation for a great life together. Without BAGSD Leeds we would not have progressed so far in such a seemingly short period of time. So, thanks to everyone at BAGSD Leeds, keep up the good work.
Still one question remains unanswered. Were we right to get another dog so soon after losing Polo? Damn right we were.
Update
Its 2 years since I wrote this, reading it once again makes me realise just how far we've both come. Bentley now comes to work with me full time and spends his time trying to persuade the warehouse lads to play. No longer fearful of strange men he greets visiting drivers with a wag of his tail and a request to throw his ever-present ball. We get loads of opportunities to train whilst at work. As strange as it may seem Bentley's stays have become much stronger since he started coming to work. If he needs to stay out of the way because we are operating the fork lift or reversing wagons we do a down stay or sit stay, just as we do on the training field. There's no way I'd have put him in these situations if we had not already got to a fairly good standard. Through watching him I can tell when he is becoming restless and I just return to him to reassure and let him know he's doing the right thing. By using the techniques learned on the training field and applying them in the work environment we have improved his abilities and also turned what used to be a weak area in his training into a growing strength. The best down stay he's managed so far was 30 minutes whilst we unloaded a wagon. There was an occasion a couple of weeks ago when one of the lads came around a corner in the warehouse to find Bentley laid down with his ball next to him. Mick kicked his ball but Bentley would not move. It was only when Mick came fully round the corner that he saw I was using the forklift and that I had told Bentley to stay. For those of you that know just how ball driven Bentley is you will know just how strong his will to stay must have been.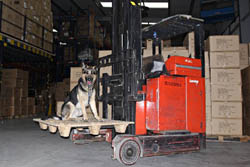 Bentley at Work


Working together is great, he's tired when I'm tired and all the exercise he gets means he is much more chilled out and is a lot easier to handle when training.
All the hard work has been well worth the effort. Someone at work recently told me that he was a credit to me. This is not true. He is actually a credit to the advice and training we got at BAGSD. Bentley has really come on leaps and bounds, we've developed a fantastic bond, we learn more each week and who would of thought it but I'm now a qualified BAGSD Instructor. Definitely a case of if you can't beat 'em join 'em!
If you are just starting out or are thinking about it. I have two pieces of simple advice for you. Firstly, listen to the instructors, they really do know what they're doing. Secondly, be patient, relax, stop worrying and above all else, enjoy yourselves.
Return to top of page