About Us
The largest BAGSD branch in the country and the only specialist German Shepherd club in the Leeds area we are a very friendly club that offers obedience and companion dog training for German Shepherd Dogs and handlers of all ages and abilities. All our instructors possess a wealth of knowledge in training German Shepherd Dogs more ...


About BAGSD
The British Association for German Shepherd Dogs (formerly the British Alsatian Association) was formed in 1933. It was formed by like minded German Shepherd Dog (Alsatian) owners who banded together for the good of the breed and whose aim is to help members achieve the utmost with their dogs. BAGSD National Association Site
Club Clothing Order
We will soon be placing a club clothing order. If anyone is interested in prdering clothing please have a look at what is available. You can see details of what is avaalable, colours, prices and download the order form here... here...
Fireside K9
Sunday saw a visit from John and Kes, a police dog team. Contrary to the rumour, they were not looking for Tony or even Tom for that matter. They came representing Fireside K9 to collect a cheque for £300 raised by our members. Fireside K9 are one of the 3 charities that we support. The Charities are the PDSA, German Shepherd Rescue and Fireside K9.

Fireside K9 support retired police dogs in need of expensive vet treatment. Believe it or not retired police dogs get next to no help with vet bills etc. By the time they retire the insurance companies won't touch them so all vet bills have to be covered by their owner (normally the dog handler that worked them but not always).

We were hoping to make a presentation in the circle so John and Kes could thank you all but unfortunately Kes had duties to attend to so they could not stay for long (a police dog's life is a busy one!). So they asked that we pass on their thanks to you all. Hopefully someone from Fireside K9 will be able to attend the AGM in March and give a short presentation about the charity. It's always good to know where the money you raise goes. So keep buying those buns!!
Camping Trip
We've just got back from this year's camping trip. It was universally hailed a great success. Many thanks to the committee for arranging such a good weekend and thanks to those that attended and made it such good fun for dogs and handlers alike. More information and photos here...
New Instructors
We're delighted to announce that Gerard Sheridan and Chris Dring have begun the process of training to become qualified BAGSD instructors. Over the next year they will be shadowing our various instructors. Their aim is to gather as much experience and as many skills as possible before going off to join the BAGSD instructors course next year. After that it'll be perhaps another two years before becoming fully qualified. I'm sure you will all join the committee and instructors in wishing them the very best on their journey to become certified, like the rest of our instructors!!!
Kennel Club Good Citizens Scheme
Well done to our first Kennel Club Good Citizens Scheme Gold Award holders. It was great to see that all dogs passed. Many thanks to Alison from Calverley Dog Training Club for judging.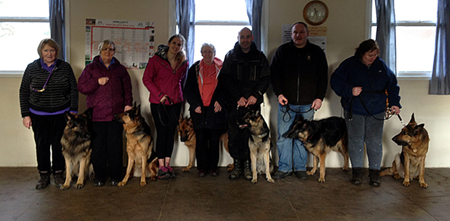 From left to right. Carole & Leo, Andrea & Tilley, Hannah & Bella, Alison, John & Bentley Gerrard & Poppy, Helen & Max
Important notice to all members
We have been informally contacted by Leeds City Council regarding parking outside the club on Sunday mornings. They were very nice about the situation and did not want to make an official complaint to us. We have promised to try and cooperate with them. If we can't cooperate the council may ultimately have to restrict parking on Carr Road to residents only. Obviously this would cause a problem for everyone.

There were 2 separate complaints on Sunday due to cars being parked inconsiderately. This includes cars being parked on pavements and on grass verges, causing damage to the verge. We have supplied our phone numbers to the council so we can deal with inconsiderately parked cars immediately. Please can we ask that all members parking cars outside the club park considerately. Please do not park on grass verges, pavements or the small road outside the cottages opposite the club. There is plenty of on street parking available further up the road, outside the park. It is only a couple of hundred meters to walk.

We realise that people walking dogs in the woods and people visiting the allotments could also be contributing to the problem but BAGSD Leeds do not wish to upset Calverley Dog Training Club (who we rent the premises from) or the good people of Calverley. If we can't work together to solve this then the instructors are going to have to start being rubbish so the attendance drops ;-)
2016 Non Training Days
Please note that the following days will be non training days during 2016. Please note that we may decide to open on some of the bank holiday weekends. Listen out for announcements at the club in the weeks leading up to each bank holiday.
| | | |
| --- | --- | --- |
| Easter Sunday | | Sunday 27th March |
| | | |
| May Day | | Sunday 1st May (We are Open) |
| | | |
| Spring Bank Holiday | | Sunday 29th May (We may open) |
| | | |
| August Bank Holiday | | Sunday 28th August (We may open) |
| | | |
| Christmas | | Sunday 25th December |