Funday
The funday and BBQ seemed to be a big success. There were 68 people attended and somewhere around forty dogs. This was a fantastic turn out. We hope you enjoyed it as much as we did. The progress tests went very well and the judges commented on the great standard achieved by all the handlers and dogs. Well done and keep up the good work. See the results here ...
Puppy in the Park
Puppy in the park was a great success for us. Thanks to all those who attended and supported our efforts. All the feedback received was very positive and everyone enjoyed themselves.
Many congratulations Wendy!
We'd like to say congratulations to Wendy. She is now certified too. Having successfully passed part 2 of the instructors exam Wendy has now completed her training. We know that Wendy will soon be contributing even more to the branch.
Tom and Sugar's TV appearance
For those that Tom has not yet got round to telling. At 9:00pm on Monday nights at the moment there is a programme on the Crime and Punishment Channel called When Life Means Life. It is on Sky 553, 554 and HD 555. On Virgin it is on 237. On Monday 23rd April Tom and Sugar have a starring role in one of the episodes about Welsh serial killer John Cooper. Sugar plays the part of a police dog tracking the suspect and Tom's left arm plays the part of a police dog handler. Also the dogsclub.tv website has now gone live and Tom and Sugar appear in the film about GSDs. Go to www.dogsclub.tv to see for yourself. There'll be no stopping them now!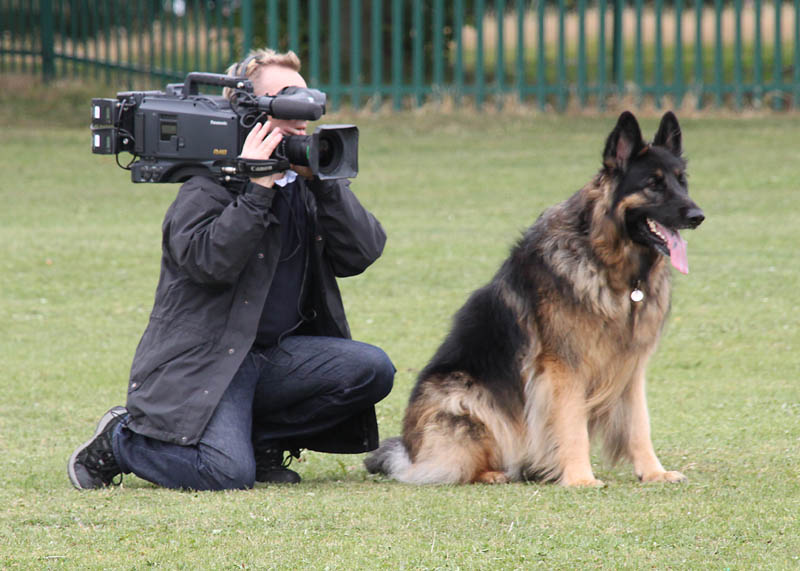 Photo reproduced with the kind permission of www.dogsclub.tv
Congratulations Carole and Leo
Carole Zajak and Leo recently competed at BAGSD Hull in the Novice class. This was Leo's very first time in the ring and they came first! Very well done Carole and Leo from everyone at BAGSD Leeds. Reading the show report the judge was mightily impressed and the win was thoroughly well deserved.
Thank you from the PDSA
I have recently received a letter from the PDSA. They would like to thank everyone at BAGSD Leeds for your fundraising efforts and generosity. The branch has been able to make donations mainly due to the money raised through the weekly raffles and it is nice to receive a letter recognising your efforts. Read the letter here...
Otto and Sasha's TV appearance
Not to be outdone by Tom and Sugar, Otto and Sasha are also TV stars. Did anyone see Appropriate Adult, the story relating to the arrest and subsequent investigation of Fred West? In the second part Fred West was talking to Janet Leach in the carpark of the police station. There were two police German Shepherds in the scene. They were none other that Otto and Sasha. Wendy is just waiting for a call from Steven Spielberg now!!!
New Trainee Instructor
Some of you may have noticed Tony Moran has been taking a more active role (bossing you about a bit!)recently. Tony has volunteered to become a trainee instructor which will be a big help when it comes to dealing with all you new members that keep appearing. We had 7 dogs and handlers in the puppy class this week and only 1 had been attending for more than a couple of weeks. We are sure that Tony will make a valuable contibution to the branch and will bring even more experience to the instructing staff. It seems Tony really enjoyed taking the instructor's class the other week.
PDSA Donation
Once again we have been able to make another donation to the PDSA. Tom Walton took a cheque for £100 to the PDSA. The PDSA asked us to pass on their grateful thanks to everyone who made this possible.
New Committee Members
We would like to welcome Hannah Hussain and Darren Sutton to the branch committee. We are sure both will make a valuable contribution to the branch.

2015 Calendar
We will be producing our hugely successful calendar again this year. There are still some left is you wish to buy one. Now is the time to find those favourite photos of your dogs. If you have any photos please e-mail or give them to John Hepworth. The calendars will be available in plenty of time for Christmas and proceeds go to club funds.
Christmas Party 2014
The Christmas party is booked for Saturday Once again we will be holding the party at Farsley WMC. There will be food, beer, DJs and Tom singing. Wendy is also busy collecting raffle prizes.