About Us
The largest BAGSD branch in the country and the only specialist German Shepherd club in the Leeds area we are a very friendly club that offers obedience and companion dog training for German Shepherd Dogs and handlers of all ages and abilities. All our instructors possess a wealth of knowledge in training German Shepherd Dogs more ...


About BAGSD
The British Association for German Shepherd Dogs (formerly the British Alsatian Association) was formed in 1933. It was formed by like minded German Shepherd Dog (Alsatian) owners who banded together for the good of the breed and whose aim is to help members achieve the utmost with their dogs. BAGSD National Association Site
New Instructors
We're delighted to announce that Hannah Hussain and Darren Sutton have begun the process of training to become qualified BAGSD instructors. Over the next year they will be shadowing our various instructors. Their aim is to gather as much experience and as many skills as possible before going off to join the BAGSD instructors course next year. After that it'll be perhaps another two years before becoming fully qualified. I'm sure you will all join the committee and instructors in wishing them the very best on their journey to become certified, like the rest of our instructors!!! Tony Moran is now halfway there having passed Part 1 of the instructors course.
Cottingley Show
Once again we have been asked to attend Cottingley show. This takes place on Saturday 11th July. We shall be putting on an obedience demonstration in the main arena and wil lalso have our own arena for doing smaller demonstrations throughout the afternoon. This is a great opportunity to show members of the public what we do and also to show what a great breed we have. Everyone is welcome to attend and everyone can play a part in the day. We shall be doing the same exercises you do every week in class. Tom has volunteered to do the commentary so we can explain what is going on and hopefully provide some insight into what we do.
Club Clothing
We will shortly be placing an order for club clothing. See the range of items and download an order form by clicking here...
Simply bring the order form to the club and leave with Carol, Margaret and Sue. Once we have enough orders we will then ask for payment from everyone. As soon as we have received the payments we will place the order.
Kennel Club Good Citizens Scheme
Well done to our first Kennel Club Good Citizens Scheme Gold Award holders. It was great to see that all dogs passed. Many thanks to Alison from Calverley Dog Training Club for judging.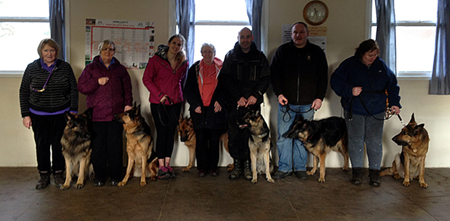 From left to right. Carole & Leo, Andrea & Tilley, Hannah & Bella, Alison, John & Bentley Gerrard & Poppy, Helen & Max
Important notice to all members
We have been informally contacted by Leeds City Council regarding parking outside the club on Sunday mornings. They were very nice about the situation and did not want to make an official complaint to us. We have promised to try and cooperate with them. If we can't cooperate the council may ultimately have to restrict parking on Carr Road to residents only. Obviously this would cause a problem for everyone.

There were 2 separate complaints on Sunday due to cars being parked inconsiderately. This includes cars being parked on pavements and on grass verges, causing damage to the verge. We have supplied our phone numbers to the council so we can deal with inconsiderately parked cars immediately. Please can we ask that all members parking cars outside the club park considerately. Please do not park on grass verges, pavements or the small road outside the cottages opposite the club. There is plenty of on street parking available further up the road, outside the park. It is only a couple of hundred meters to walk.

We realise that people walking dogs in the woods and people visiting the allotments could also be contributing to the problem but BAGSD Leeds do not wish to upset Calverley Dog Training Club (who we rent the premises from) or the good people of Calverley. If we can't work together to solve this then the instructors are going to have to start being rubbish so the attendance drops ;-)
2015 Non Training Days
Please note that the following days will be non training days during 2015. Please note that we may decide to open on some of the bank holiday weekends. Listen out for announcements at the club in the weeks leading up to each bank holiday.
| | | |
| --- | --- | --- |
| Easter Sunday | | Sunday 5th April |
| | | |
| May Day | | Sunday 4th May (We are Open) |
| | | |
| Spring Bank Holiday | | Sunday 24th May (We may open) |
| | | |
| August Bank Holiday | | Sunday 23rd August (We may open) |
| | | |
| Christmas | | Sunday 27th December |
A typical exercise
One of our instructors Joan teaching a recall under the watchful eye of Tom Walton.